Olympic champion Doktor: Come to Račice, it will be worth it!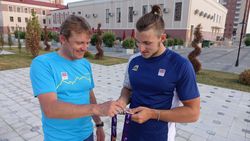 Martin Doktor, the double Olympic champion in canoe sprint, has settled down in Račice thanks to great training opportunities. He rarely paddles nowadays but he still visits almost every competition that takes place at the Račice venue. And he will not miss the 2017 ICF Canoe Sprint World Championships in August.
What does it mean for you to have the World Championships almost behind your house?
"It means a lot to me! The World Championships in Račice in the Czech Republic should have been there long time ago. It's a shame that it didn't work until now. It would have been much better if it had happened in time of my professional career. But to be honest, it means a lot for Račice, for the Czech Canoe Union and for supporting our sport not only in the Czech Republic. Also it will be a bit easier for me."
That's right, you will have the biggest race of the season close to your home. On the other hand, your place will be really busy because your friends will be camping in your garden, right?
"Yes, our friends will stay at our place, we are used to it. But I don't mind especially if they come for the most important and biggest races in canoe sprint in the history of the Czech Republic. That's what is it all about – everyone who is related to canoe sprint will come to Račice. And not only people from canoeing, but also people who care about results of our canoeists and who want to see it live. So come, it will be worth it!"
Why should people come to Račice even though they don't follow canoe sprint in detail?
"Because they will have an opportunity to see Olympic medalists, World champions and top athletes at relatively close distance. They will find out that canoeists are normal people and they can experience the atmosphere of the event. The venue in Račice is very nicely constructed. Contact with competitors is close and service is fine. In addition, you can get there by train."
Do you take train as well?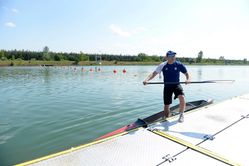 "Sometimes I do. We would have the largest attendance if we could host the championship in Prague, after all, Císařská louka in Prague was crowded in 1958. Yes, Račice are far from Prague but there is an advantage: the place is located near the main railway line to Germany. The train runs every hour, you are in Hněvnice in 45 minutes and it is just 10 minutes by feet to the venue. And moreover, there will be a bus connection, so you get there in an hour. And if you like cycling, you can make a trip around Labe and Vltava river. Or combine train and bike."
What is your first memory on Canoe Sprint World Championship?
"I remember how Petr Procházka gained medals in single canoe and double canoe with Alan Lohniský at the World Championships in Duisburg in 1987. I went personally to watch the championships in Poznan in 1990 for the first time where we went by bus, we slept somewhere around a zoo and we went to watch the competitions. Next year in Paris it was similar as we slept in a camp. And in 1993 I competed myself. I ended up fifth on 1000 m in Copenhagen although I hadn't expected that I would qualify to the World championships at all. "
And what is the best and the worst experience?
"I gained my first world title in C1 500 m in Canada in 1997 but I have much more intense memories for 1998 when I won C1 200 m. That championships annoyed me so much!"
Why?
"There was a bad weather in Szeged. During the C1 1000 m Stephen Giles defeated me, because he competed in a line under the shore and was covered from wind and there were not that many waves on the water. I knew that I could get ahead of him in the last 300 meters. But he went on relatively smooth water and I was in the middle of the track in the wind and waves. Anyway, it sometimes happens in Szeged. So I was upset that I ended up on the second place. The C1 500 meters race was a total disaster. And on the top of that, when I was about to prepare for the start of the C1 200 m, terrible downpour came. So I argued with my dad if I should go to warm up on water."
And did you go?
"No. Canoeist Waldemar Fibigr had supported my dad. I was messed up but I didn't go. But then it ceased to rain and the wind calmed down. There was calm flat water as well. I closed my eyes and kicked the boat to the finish line. And I won. That was an amazing moment."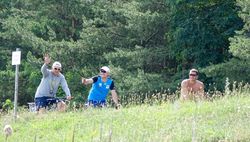 And when it didn't come off well?
"In Mexico 1994. Even though we were prepared for it, it was a terrible to race at 2300 m above sea level. Races took 10 seconds more and after that we were all dead. When I finished the C1 1000 m race I threw up. Then they dressed me up for medal ceremony. But when I came there, they told me: Hey, you are 4th just 0,004 seconds shy. So I lost the medal by one and half centimeter. Sometimes it goes well, sometimes it doesn't."
What would you wish to the Czech competitors at the World Championships in Račice?
"I wish medals for everyone who are strong enough to reach them in my opinion. We have a strong team. At most I wish medal for Martin Fuksa – as you can tell, single canoe races are closest to my heart. And I hope that many racers will qualify to the finals. I don`t think we will host the World Championships in the Czech Republic that soon again. So I wish the audience to enjoy the atmosphere."