Accommodation for spectators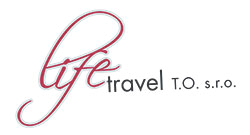 Our partner travel agency LIFE travel T.O. is ready to arrange accommodation at the hotels of all price categories for all spectators of this event. Please contact directly LIFE travel T.O.
LIFE travel T.O. s.r.o.
Budovatelů 1595
413 01 Roudnice nad Labem
www.lifetravel.cz
e-mail: This email address is being protected from spambots. You need JavaScript enabled to view it.
tel. +420 602 407 757, 602 649 582
We would like to inform the audience that camping is strictly forbidden in the whole area of Labe arena Račice!
If you are interested in camping, please use the following campsites:
Cyklo camp - BK Sporthotel Roudnice nad Labem: http://www.sporthotelbk.cz/kemp
Autocamp Melnik: www.campmelnik.cz
Autocamp Slavoj Litomerice: www.autokemplitomerice.com