Opening ceremony: parcourists and flyboard show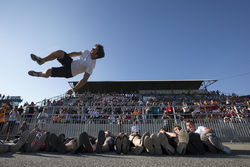 Stands full of athletes and guests, flag bearers' parade, greetings from Czech racers, parcour and flyboard show. All this was part of the opening ceremony of the 2017 Canoe Sprint World Championships in Labe arena, Račice. Czech flag was carried by kayaker Martin Seidl who was accompanied by kayaker Sofie Kinclová, junior World Champion in K1 1000 m. "I've already carried flag twice so I knew what to expect. But it was really nice. To carry the flag at home is an honour for me," said Martin Seidl, the finalist of the European Championships in category K2 200 m. "The opening ceremony was beautiful, I liked everything about it and especially parcourists the most."
Flag bearers' parade was followed by anthems and rising flags. Oldřich Bubeníček, the governor of the Ústí Region, Jan Boháč, the president of the Czech Canoe Union, and José Perurena, the president of the ICF International Canoe Federation welcomed participants and guests of the Championships. Also Lubomír Zaorálek, Minister of Foreign Affairs of the Czech Republic, and Richard Brabec, Minister of the Environment, attended the ceremony.
"Most of you remember the World Cup races and the European Championships that were held here in Račice in past years. I'm proud that we can host the World Championships in the Czech Republic after 59 years. Now we will watch marvellous competitions of the best world canoeists including many Olympic champions, legends of this sport and fantastic Paralympic athletes as well," said Jan Boháč.
All of 33 Czech competitors welcomed other team by a video salutation. Then the program continued with performance of Urban Sense which is devoted to parcour and freerun. The show was closed by floyboardist Michal Stašek who performs together with Petr Civín. Stašek flied above water level and in the very end he carried up Latvian racer.