How to get to Labe Arena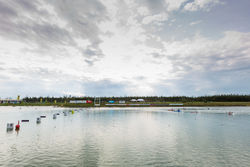 The venue of the 2017 ICF Canoe Sprint World Championships is located in North Bohemia just about halfway between Prague and Ústí nad Labem. There are several options how to get to Račice – whether you use a car, a train or a bike.
By car
From Prague use an exit at the 29th km of the motorway D8 (direction to Ústí nad Labem). Then follow the road number 240 to Roudnice nad Labem. Turn right on the roundabout next to the Billa supermarket. On the next crossroad turn left, you will pass through Předonín village and then continue to Štětí. From Mělník and Česká Lípa use road number 9, then in Liběchov turn to the road number 261 to Štětí. You can use the same road (261) while driving from Litoměřice. IMPORTANT NOTICE: Reserved parking for spectator will be in Štětí. Shuttle service between the parking and the venue will be provided for free.
Distances and estimated times:
Ústí nad Labem, 56 km, 60 minutes

Praha, 60 km, 65 minutes

Litoměřice, 25 km, 30 minutes

Mělník, 18 km, 20 minutes

Roudnice nad Labem, 10 km, 15 minutes
By train
You can reach the venue by about 15 minutes long walk from the Hněvice train station that is located on the main railroad to Germany. That offers a very convenient train connection from Prague and North Bohemia. Train from station Masarykovo nádraží and Prague-Holešovice leaves every hour (express train take you to Hněvice in 46 or 36 minutes), from Ústí you can use express train (38 minutes) or stopping train (55 minutes). Direct connection also runs from Děčín (every two hours, 55 minutes).
More information about train schedules: www.cd.cz, www.idos.cz.
If you are a fan of cycling, you will certainly appreciate the pleasant cycleway by Labe and Vltava, or you can combine the cycle trip with train ride.