Who are the sprint stars?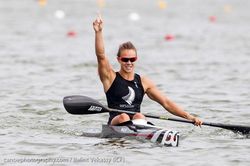 Lisa Carrington followed her brothers into surfing as a kid. She also played netball but with her 168 centimetres she was too short to play this game as a professional. Finally, she fully focused on water sports. That's how the kayaking phenomena Lisa Carrington was born.
She managed to gain two Olympic medals at single Olympics as the first New Zealand female athlete – in Rio she won gold medal in 200 m and bronze medal in 500 m. But as she says, it's not the result what matters the most. Her main goal is to get better every time she gets into boat.
Lisa can push the boundaries permanently and she proves it in this season also as she decided to change her training process and focused on team disciplines. During this years World Cup races Carrington helped her team members to win both categories K2 and K4 in 500 m twice in a row, she also succeeded in K2 200 m in Portugal and in K1 500 m in Hungary.
In Milan 2015 she won K1 200 m and K1 500 m. How is she going to succeed this year in Račice?
Olympics as a motivation for return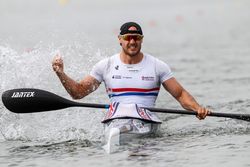 He can't imagine his life without kayaking. He took gold and silver from this year's World Cup races and he will be one of the favourites in K1 200 m track at the World Championships in Račice.
Nevertheless, British kayaker Liam Heath had to give up his sport as an appendicitis ended up his successful junior career. Once he recovered he had no will to come back.
He has returned to racing just after graduation, by that time the K2 200 m was announced as Olympic discipline. Heath started training with his partner Jon Schofield. Their effort bore fruit and they took bronze at the Olympics in London 2012.
Shortest canoe sprint distance became Heath's great discipline both in K1 and K2. Four years later at the Olympics in Rio he earned the dream gold medal in individual race and added silver medal with Schofield.
The only triumph Heath misses is the one from the World Championships. Can he manage it in Račice?