Who's who in the Czech K4 Team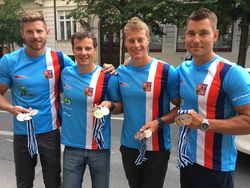 Czech K4 has been successful with the same crew since the 2012 Olympic Games ito the last year's Olympic Games in Rio de Janeiro. However, crew has changed this year. Nevertheless, Jakub Špicar, Daniel Havel, Radek Šlouf and Jan Štěrba gained two bronze medals at the World Cup races despite the fact that their major discipline has been shortened for just a half – 500 m instead of a kilometre. "We suit each other," says Jakub Špicar, the medallist from junior and U 23 championships.
New bowman's nickname is "Týčko". Daniel "Daneš" Havel is currently paddling on the second place in the boat instead of Lukáš Trefil. Then there is Radek Šlouf called "Ventil" who has taken over the third position after Josef Dostál. He's also the youngest crew member and last year's European and World champion U 23 years in K2 1000 m. Stern paddler Jan Štěrba called "Tony" is the most experienced member of the crew.
Who's the biggest joker? Radek Šlouf, they say.
"He's kind of jeerer. If he can laugh at someone gleefully, he'll do that," says Daniel Havel.
"It's only a joke but sometimes it's maybe too much," Šlouf reacts.
Jan Štěrba adds: "The worst thing is when he beats you in a football videogame…"
"Yeah, you want to throw a controller on him," says Havel.
The biggest videogame player in the crew is Jan Štěrba.
"Well, when he gets crazy about that. I remember one training camp when he almost forgot to come to dinner," Havel laughs.
"That's a long time ago," Štěrba replies.
When it comes to dinner, who's the biggest eater?
"Radek. He eats especially beans," Havel says.
"From now on I take it easy. But during a training camp in USA, I kick it," Šlouf adds.
What about their distinctive traits?
"I'm chatty," Špicar starts.
"I'm strong-minded," Štěrba adds.
"I'm the nervous one," Šlouf confesses.
"And I'm the calm one," Havel encloses.
Even though they're different, these four fellows suit each other really well. "We can agree on things quite fast. I don't think that we're the same characters but we're all adaptive and we can arrange on everything we need to," Havel adds.
They should present themselves in the same crew at this year's European Championships in July and at the World Championships in Račice also.
"There was the European Championships two years ago in Račice and the audience was just great," Havel admits. Štěrba adds: "I'm really looking forward to the World Championships, even more than to the Olympic Games. To compete home is awesome every time."