Euro2015
Don`t miss the action! See you at the ECA European Sprint Seniors Championships.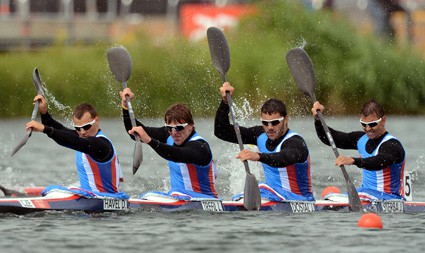 One of the biggest sports events in year 2015 in the Czech Republic will start in Račice exactly in four months. The organizers of the ECA European Canoe Sprint Seniors Championships expect around 800 participants from 40 countries to come to the region of Northern Bohemia. Also paracanoe races will take place in Račice.
"I believe that the Czech competitors will be as successful as in past season. The championship will be also a dress rehearsal for the World Championship, which will take place in Račice in 2017," Jan Boháč, the President of the Czech Canoe Union, said.
The European Canoe Sprint Championship will start in less than six month. You can find all the general information and details about accommodation or entries below in the bulletin of the Championship. Attached is a revised version of the bulletin (see added information at page 2 - maximum number of athletes per country and page 5 - accommodation for para canoeing).
After sucessfully completing European Championships 2006, ICF Junior Canoe Sprint World Championships 2007, ICF World Cup 2009, 2011, 2013 and 2014, it is a great honour for the Czech Canoe Union and National Sport Centre Racice to host the ECA European Championships 2015.
From April 30 to May 3rd, Sportcentrum Racice will open its gates to the best canoeists in Europe.
European Championship is a top sport event and organizers have therefore made several improvements on the venue and its equipment to provide the competitors and their teams with the best conditions and comfort. We believe that the overall conditions, hospitality and friendly atmosphere will help all participants to achieve the best results and enjoy the event.
Welcome to Račice 2015!