Max Hoff, the king of the European Championships: Now I want to win the Olympics!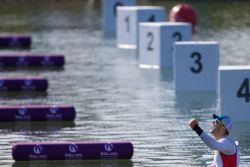 Max Hoff won for the seventh time in his career the gold medal at the European Championships. German kayaker triumphed with nearly two-second lead over his rivals and again dominated the European Championships at this distance after a two year break. "Now I want the gold medal from the Olympics," Hoff said.
After the first 250 meters Hoff was still in the middle of the starting field, but he was clearly the fastest one in the second half of the race and quickly overtook the lead. "Everyone knows that I'm not the fastest one at the start. But I become very strong in the middle of the race. After 500 meters I get quicker and quicker," the kayaker said with smile.
He has a particular relation to the Czech Republic. "I became a world champion for the first time here!" he recalled the triumph on the wildwater in Karlovy Vary in 2006. "But I really like Račice as well. The track is excellent, the service in recent years has greatly improved and the food here is good either." He even got used to the most popular Czech drink: "Well, beer is not really my favorite drink, but in the Czech Republic it's almost an obligation to drink one."
Nine years ago he competed for his medals in wildwater canoeing, however the dream of the participation in the Olympics was stronger. "Around year 2006, there were not so many strong canoeists on the 1000 meters track in Germany. I simply tried it and apparently it was not so disastrous after all," laughed the five-time world champion at 1000 meters.
His bet on the canoe sprint paid off, in 2008 he qualified to Beijing and four years later, he returned from London with a bronze medal. "Now I want to win the Olympics! That remains my dream and my motivation for the training. Perhaps then I'm going to be old enough to say goodbye to the professional sports!"