51th podium for Wallace, wins for Tarnovschi brothers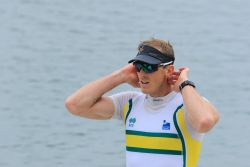 There was number of interesting results to see in Račice during the Sunday´s programme of ICF Sprint Canoe World Cup. Australian Kenny Wallace has claimed 51th podium finish in all major races since the 2012 London Games. "As far as I know it is a correct number. 51? I´ll take it," Wallace said in Račice.
The Australian managed to get to the silver position twice in Czech Republic. On Saturday he made No. 49 podium after being second with Lachlan Tame in K2 1000 m and he added No. 50 on Sunday morning in K4 when the Australian finished on the second place behind Germany (Gross, Hoff, Liebscher, Rendschmidt). "For me K2 was good because we had such a bad race last weekend so get back on the podium is good. K4 was interesting - just second time for me in ten years."
At the end of the programme Wallace won K1 5000 m event. "It was a good race. It was hot and couple of tough guys we have a good rivalry with."
In his 32 years he has his own receipt to be succesfull: "I have kids and have learned that it is a sport and sport is meant to be fun and I put it into the perspective. I think this is probably the biggest thing because I have my succesfull years since I have my two boys."
The Sunday was a very succesfull even for Tarnovschi brothers - at first they have won C2 1000 m and afterwards Sergej won C1 500 m and his brother Oleg finished on the third place (local Martin Fuksa finishen on the second place).