Succesfull Germans and a home win for Dostal in Račice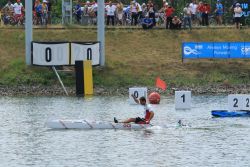 The Saturday´s programme of ICF Canoe Sprint World Cup in Račice brought three victories to the German national team and two positions on the podium for the home team of Czech Republic.
Josef Dostal made the local fans happy as he dominated K1 Men´s 1000 m event. "I am really happy for this win at home," Dostal said. "It is important for me on the way to the Olympics as it brings some quietness into my head and on the other hand it gives me self-confidence that I am capable of winning. But honestly I realise that nothing is for sure so I know that a lot of hard work is infront of me."
Germany was the most succesfull country on Satudray with three individual wins - the reigning Olympic champion Sebastian Brendel added his second victory in C1 men´s 1000 m event in this season ICF Canoe Sprint World cup after winning last week in Duisburg (Czech Martin Fuksa finished on the third place in C1 Men 1000 m).
Brendel´s compatriots Marcus Gross, Max Rendschmidt won K2 Men 1000 m and Tom Liebscher, Ronald Rauhe dominated K2 Men 200 m.
In C2 men 200 m the Italians Sergiu Craciun, Nicolae Craciun took the first place.
In women´s finals Hungarian Tamara Takács won K1 Women 1000 m, Sarah Guyot from France dominated K1 Women 200 m. Valdenice Conceicao do Nascimento was the soveriegn of C1 Women 200 m, the Ukrajinians Inna Hryshchun, Anastasia Todorova dominated K2 Women 500 m and the first place in K2 Women 200 m belongs to Aimee Fisher, Jaimee Lovett from New Zealand.