Olympic best are also World Championship best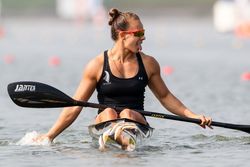 There was no Olympic hangover for four Rio gold medallists as they won titles on the final day of the ICF Sprint Canoe World Championships in Racice, Czech Republic, on Sunday. Liam Heath, Lisa Carrington, the Hungarian women's K4 500 and the German men's K4 crew all won gold in front of a capacity crowd and in perfect paddling conditions.
In other Olympic events, Canada's Laurence Vincent-Lapointe won the women's C1 200, and Germany's Yul Oeltze and Peter Kretschmer won the men's C2 1000.
There was also a popular hometown win for Czech's Josef Dostal in the K1 500, and Martin Fuksa in the C1 500.
Germany's Sebastian Brendel was the most successful athlete of the weekend, picking up gold medals in the C4 1000 and the C1 5000 to add to his C1 1000 from Saturday.
Heath, who is set to become a father next month, withstood a strong challenge from Hungary's Bence Horvath to win the K1 200 title.
"I felt the most pressure going into the first World Cup, because you don't know what everyone else has been doing over the winter," he said.
"As soon as you get that first race you get an idea how they're going, and how you're going, and I've always believed no-one can put more pressure on you than yourself to do the things you want to do, and you're in complete control of that, so that's how I've dealt with it."
You can read full article HERE.