Thank you brilliant Czech crowd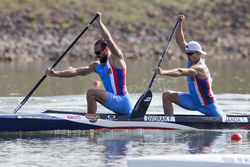 CZECH FILIP DVORAK CONTINUES WITH HIS INSIGHTS INTO HOSTING THE WORLD CHAMPIONSHIPS IN RACICE, FOR THE FIRST TIME IN 59 YEARS.
The first day of finals at World Championships in Račice is over and what a day it was. There was only one downside from my point of view. That was the short shower during the morning program, but even that was rather refreshing and didn`t thin the crowd.
Ohh THE CROWD. It is still giving me the goose bumps. I, as a Czech, am so proud that Czech fans have made such elecrifying atmosphere that can be compared only to the races in the Mecca of paddling, Szeged, and the Olympic games.
Let me give you a little fun fact here. Regular population of Račice is somewhere around 330 people, which means (and this is only my guess) that during these weekend days the population of Račice gets twenty times bigger. And the majority of these people are here only to cheer for athletes to push themseves to their limits and perform the races of their life.
And you know what? The cheering apparently worked! Today we have seen some truly breathtaking performances. Let me tell you my personal highlights. Normaly I would start with Czech medals, but I have to say that I really admire the way the Germans in mens singles raced today. Both of them (Tom and Sebastian) managed to pull off such a mindblowing last 200 metres that they crushed all the competition, including local favourites. I almost could`t believe my eyes when i watched them cruising past other paddlers with such speed and elegance.
Read more HERE
You can read first blog of Filip Dvořák HERE and the second one HERE.