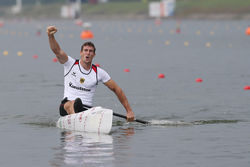 German powerhouses Sebastian Brendel and Tom Liebscher have broken the hearts of a capacity Czech crowd by storming to victory in their C1 and K1 1000 finals at the ICF Canoe Sprint World Championships in Racice on Saturday. In both cases the Germans chased down Czech paddlers who had brought the crowd to their feet. Brendel snatched victory from Martin Fuksa, while Liebscher flew home to tip out Portugal's Fernando Pimenta and local hope Josef Dostal.
In other results, Belarus's Volha Khudzenka upset New Zealand's Lisa Carrington in the K1 500, but then the two time Olympic gold medallist teamed up with Caitlyn Ryan to post an emphatic win in the women's K2 500.
Canada's Laurence Vincent-Lapointe and Katie Vincent took gold in the C2 500, and Olympic and European silver medallists Marko Tomicevic and Milenko Zoric broke through to win gold in the men's K2 1000.
In non-Olympic events, Hungary's Ramona Farkasdi and Erika Medveczky won the women's K2 1000, and Spain's Marcus Walz, an Olympic gold medallist in the K1 1000 last year, teamed up with Rodrigo Germade to win the K2 500.
Belarus's Artsem Kozyr won the men's C1 200, Hungary's Mark Balaska and Balazs Birkas won the men's K2 200, and Russia's Viktor Melantev and Ivan Shtyl won the C2 500. You can read full article HERE.
Foto: Pavel Lebeda (sport-pics.cz)