The Olympic champion Brendel: I will give it everything in the final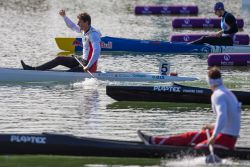 Not even the unpopular races in the early morning hours stopped Sebastian Brendel (Germany) from easily reaching the final of C1 1000 m. One of the biggest stars of this year's European Canoe Sprint Seniors Championships dominated his race with a comfortable lead and advanced directly to Saturday's final.
The Olympic champion from London 2012 was happy with his first important race of this season. "Considering that the race was so early, I'm satisfied," Brendel who had to be at the start at 8:14 said with smile. "I am not really a morning person, although I had to get used to getting up as I have two children. Fortunately, tomorrow`s finals starts one hour later."
As the defending World and European champion, Brendel has only the highest goals: "I want to win. Last year I won the 1000 and 5000 meters races and I want to defend my triumph. But I know it will be very hard, there are some strong competitors – such as Martin Fuksa," the three-time world champion said.
"I will give it everything in the final. Today I saved some energy, you never give it your best in the heats. After all, the heats are more about getting into the racing rhythm," Brendel, who advanced also in 500 meter race, said. His family and friends came to support him in the Czech Republic. "I have already been to Račice several times, it is a very fast track. I really enjoy it, I had some very good races here." Despite his easy progress to the final, Brendel still found some shortcomings. "It could be sunnier!" he laughed.