The Czech K4 Team is going to race rowers in its preparation for the European Championships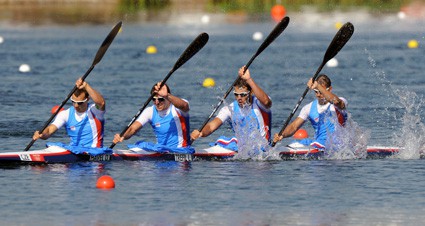 The World and European K4 champions are going to go through a special test at the end of their training camp in the USA. Daniel Havel, Lukáš Trefil, Josef Dostál and Jan Štěrba, who will spend about six weeks in the training centre in Chula Vista, should go against coxless fours from the USA and Canada in the Mission Bay in San Diego.
"I hope the race won`t be cancelled. It should be an interesting part of our training camp. I am curious how we will compare to the rowing national teams of the USA and Canada. Before I agreed to this race, I talked to the rowing coaches at our boathouse. They told me we should be stronger," Josef Dostál, the K1 1000 World Champion, said.
While the best Czech kayakers get ready for the ECA European Championships in Chula Vista, C2 paddlers Jaroslav Radoň and Filip Dvořák went to their favourite destination in Newport for next five weeks. Martin Fuksa, C1 silver and bronze Worlds medallist, is now training in Portugal. "Everything is fine here, weather is nice. I am tired. Seems like we are competing with all the other national teams to see who is going to train at most," Fuksa said.