NEW program for the 2017 World Championships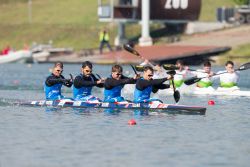 The International Canoe Federation ICF has decided to change the disciplines for the 2017 ICF World Canoe Sprint Championships in Račice. Unlike previously announced there won`t be equal amount of races for male and female paddlers. The planned program is similar to schedule of 2015 World Championships. Therefore C1 500 m, K2 200 m or C4 races are back on schedule, as well as K4 1000 m. There is another K4 race as K4 500 m stayed also. You can check the provisional schedule HERE.
"In relation to the requests from several National Federations and taking into account the lateness of this decision with the potential impact on team selection it has been agreed to run the 2015 World Championships Program as an exception with the new 2020 Olympic events for the 2017 World Championships in order to be fair to all teams. The non-Olympic events of the World Championships Program will be looked at again by the Technical Committee this year and a proposal made for 2018 World Championships later this year," explained the ICF in a letter.