How Fuksa exchanged ice hockey for canoe sprint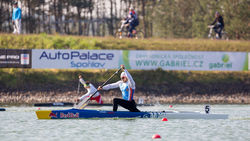 As a small kid, Martin Fuksa dreamed that one day he would play ice hockey for New Jersey Devils in NHL. However, after a single hockey match he paradoxically decided to bring his desire to be the best into a family sport – canoe sprint. Since today he has gained two silver medals at the World Championships on one kilometre race, he's the world champion on 500m and four-time in a row European champion on the same race. On top of that he won two World Cup races at the beginning of this season i Montemor.
Martin Fuksa has a great family background for his achievements. His grandfather Josef coaches canoe sprint athletes in Nymburk for decades. His father Petr has won 11 medals from the World Championships and 70 national titles. Also his mother Lenka did canoe sprint, and finally, the boathouse at Labe wouldn't work without his grandmother Jana. Nevertheless, Martin played ice hockey at first. Finally, the reversal came with his dad's victory in C4 200 m at the World Championships in 2006.
"It was the only race that I really lived for. With boys in training we got into the boat and kicked it to the finish like they did and finally bathed like them in Szeged. It was a great fun. The atmosphere among people by water is totally different than in a ice hockey or anywhere else. We're all friends."
Martin spent some time between both of the sports but the last straw came when his coach didn't put him in one ice hockey match. By that time Fuksa has started to focus on canoeing and he studied canoeing videos instead of the hockey ones. That's why he excels in technique. He has admired Andreas Dittmer, three-time Olympic champion from Germany. Because of canoeing he even skipped some classes – to study videos and to be prepared for training. He's got an ambition and he's precise in training, regeneration and diet.
"What I like at most is the atmosphere among paddlers. And if you're good, you also like the success. To stand on a winner's podium and listen to the national anthem is the best feeling of the sport's life."